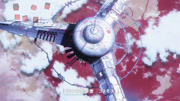 Cosmos (コソモス, Kosomosu) is a location in DARLING in the FRANXX. It serves as APE's mobile aerial fortress[1] and HQ.
Appearance
It is a dome-shaped facility with three pronged angles. It is surrounded by hologram images and one to two rings that are part of the facility. It is accessible via an elevator.
Overview
Cosmos is shown to be orbiting over Earth and is capable of mobility. It is heavily equipped with satellites that observe all occurrences that happen on Earth and all images that come from these satellites appear in orange holograms.
Very few are allowed access into Cosmos unless they have elite privileges within APE, such as Dr. FRANXX and the 9's. It serves as the primary residence of the Lamarck Club, who use Cosmos as the APE Central HQ and they almost never leave the facility. [2]
Trivia
In the manga, Cosmos was destroyed by the Klaxosaur Princess, causing the demise of the APE leaders. Whereas in the anime, the facility is abandoned after Papa and Vice Chairman reveal themselves as VIRM and absorb the souls of the other APE members.
Gallery
References