Chrysanthemum (クリサンセマム, Kurisansemamu) is the 26th Plantation.
History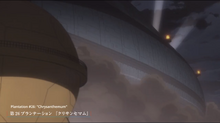 After Plantation 13 had lost a significant amount of magma energy after it was attacked in Episode 1 by a Moho-class Klaxosaur, it was scheduled to meet with the nearby Plantation 26 to resupply its magma energy stockpile through a process known as "kissing".
Episode 05: Your Thorn, My Badge
The kissing commences and a friendship ceremony is held for the two plantations, and all the parasites are treated like VIPs by the adults. The parasites of Squad 13 and Squad 26 rendezvous to discuss the inevitable battle with the klaxosaurs, although the leader of Squad 26, 090, is reluctant to work together with Zero Two because, two years earlier, her reckless conduct during a battle resulted in the death of his partner.
Episode 06: DARLING in the FRANXX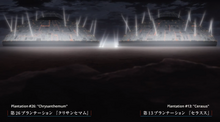 Despite 090's protests, the two squads are assigned to work together against the
klaxosaurs
. Halfway, Squad 26's
FRANXX
run out of fuel, so
Squad 13
comes to their rescue and takes over the fighting. The squads emerge victorious thanks to
Strelizia
coming to their aid.
During the siege of Gran Crevasse, a super-Lehmann Klaxosaur emerges from the ground and throws Plantation 26 over on its side, causing it to break apart and explode, resulting in the demise of all its inhabitants. Vice Chairman sends a message to 090 to act on Protocol 32, which is an order to self-destruct, as the klaxosaur approaches Plantation 13. Squad 26 follows through and are killed after self-destructing.
Residents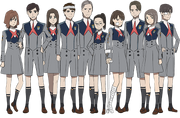 Parasites
References
Community content is available under
CC-BY-SA
unless otherwise noted.